Mission
The mission of the University of Miami Intensive English Program is to prepare international students to enter a university in the U.S. by providing instruction in English language and academic study skills. The IEP also helps its international students adapt to university life and American culture. The program facilitates intercultural understanding, offers support and guidance related to non-academic issues, and builds ease and confidence in a new culture.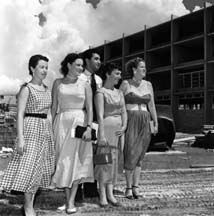 The Intensive English Program serves the University of Miami by recruiting students and preparing them for academic study, and by providing language support services to the university community. 
History
The Intensive English Program (IEP) at the University of Miami has over 70 years of experience offering quality English language instruction for academic purposes.
In 1951 the IEP was born out of a need for English instruction for a few students from Latin America. Initially, IEP classes were held in various classrooms on the UM campus and IEP students studied in three levels for 12-week sessions offered several times a year. Through the 1960s, with the political turmoil in Cuba, the student population grew and the structure of the program evolved into three 15-week sessions per year to reflect the UM academic calendar.
The late 1960s and 1970s saw much growth and exciting new developments at the IEP. With an interest in the professionalism of the ESL field, IEP became a charter member of UCIEP in 1967. Through the 1970s the student population continued to grow and become quite stable and a language laboratory was added to the facilities.
By the 1980s IEP was offering four levels of English courses over three sessions per year. Courses included Grammar, Listening/Speaking, Writing, Reading and Lab. The IEP student population and faculty grew dramatically to the point where enrollment had to be limited at times. In the late 1980s IEP offices moved to Dean Robert Allen Hall and all of its classes were held there. Continuing its interest in professionalism, IEP became a charter member of English USA in 1988.
The late 1990s saw a major revision of the IEP curriculum, expanding from four to five levels of instruction. Today IEP remains a part of the Division of Continuing and International Education at the University of Miami and our offices, classrooms and labs are all in Dean Robert Allen Hall on the Coral Gables campus. We offer five levels of English instruction. Classes include Oral Communication, Written Communication, Reading, workshops and content classes.
In 2001 the IEP was accredited by the Commission on English Language Program Accreditation (CEA) and agrees to uphold the CEA Standards for English Language Programs.