Founded in 1967 by UM international students specifically to represent the needs and interests of undergraduate and graduate international students at the University of Miami, COISO also serves as the umbrella organization for all cultural student clubs and coordinates campus wide activities such as International Week and United Nations Day.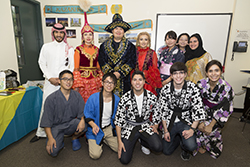 By participating in COISO meetings and events, you will get to know international students from over 100 countries and ensure that COISO provides the types of services and activities that meet your needs and interests as an international student at UM.
For additional information and for dates of upcoming COISO meetings/events, email coiso.studorg@miami.edu.