All new students will take a placement test to determine their level when they arrive. This test is offered at various times before IEP Registration and Orientation.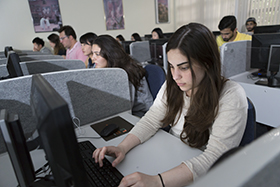 The placement test is approximately two hours long and includes listening, reading, writing and an oral interview with an IEP faculty member. All new students will be placed into classes based on the results of this test.
Most students place into the same level for all of their classes. For example- Level 2 Reading, Level 2 Written Communication, Level 2 Workshop and Level 2 Oral Communication.
Depending on the results of your exam, it is possible that you place into different levels. The levels must be consecutive. For example, Level 3 Reading, Level 3 Written Communication, and Level 3 Workshop and Level 4 Oral Communication; or Level 4 Reading and Writing, Selected Topics, and Level 5 Oral Communication.