The IEP office, located in room 111 of Allen Hall, is open to assist you Monday to Friday, from 8:30 a.m. to 5:00 p.m.
You may come to the office before class, during a break, during lunch, or after class if you have any questions. We would like to assist you in any way possible.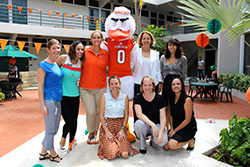 For certain subjects, an appointment may be required.
| | |
| --- | --- |
| Question | Who to see for help |
| Applying to the IEP | |
| Letters, faxes and mail | |
| Attendance | your instructor / Brigitte Fargas |
| Class work/homework | your instructor / Cara Wenig-Mori |
| Can't keep up with work | your instructor / Cara Wenig-Mori |
| Grades | your instructor / Cara Wenig-Mori |
| Housing | |
| Trips and Activities | |
| Driver's license | |
| Personal issues | |
| Payments | |
| F-1 immigration | |
| Insurance | |
| Other UM offices | |
| Other university information | |