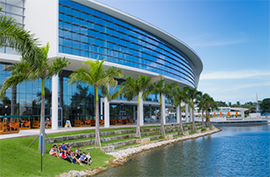 The Coral Gables campus of the University of Miami is located approximately 8 miles south of Miami International Airport. All IEP classes and offices are located in Allen Hall on the Coral Gables campus.

The University of Miami consists of 5 campuses, including the Rosentiel School of Marine and Atmospheric Science and the Medical campus. The Gables campus is consistently ranked one of the most beautiful in the country, and diversity among students is a top priority.

The Gables campus has many facilities popular with students including the Wellness Center and the Shalala Center. Additionally, many services are available to students, including Dining Services, Student Health Center, the Counseling Center, and the University Bookstore.

Located southwest of downtown Miami, the city of Coral Gables offers beautiful homes, lovely parks and fine dining and shopping. Coral Gables is also home to many famous landmarks, including the Biltmore Hotel, Sunset Mall Shopping Center, Fairchild Tropical Botanic Garden, and the Venetian Pool.