Public Transportation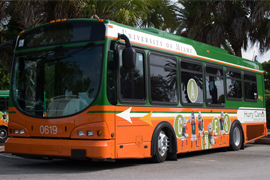 Public transportation in Miami is not as easily available as in some other cities. You can catch the Metrorail from campus at the University station. The Metrorail runs from Dadeland Mall area to Hialeah. Buses connect with Metrorail and many outlying areas of Dade County. Please see Miami-Dade Transit for more schedules, maps, prices and other information.
Getting a Florida driver's license
The Department of Highway Safety issues a Florida driver's license. To be eligible to obtain a license you will need two exams: a written portion and a road test. In order to take the exam you will need to study the Florida Driver's License Handbook. A vision exam may also be given.
You will need your passport, F-1 visa, I-20, print-out of your I-94 and two proofs of address. Please visit Checklist for more information. It is best to make an appointment for your test. Please go to Service Centers in Miami-Dade County to see the addresses of driver's license offices and to make appointments.

NOTE: With few exceptions, people with foreign driver's licenses must get a Florida license within 30 days of their arrival in Florida if they plan to drive. Even most International Driver's Licenses are only valid for 90 days. In most cases, your driver's license will expire on the same day as your I-20 or F-1 visa, whichever comes first.

Florida law requires that changes in driver's addresses be reported within 10 days of moving.
Automobile Insurance
You are required by law to purchase automobile insurance. Florida insurance law requires everyone to have Personal Injury Protection Damage coverage. This protects the car owner from liability in the case of injury, death, and damage to another party or property damage. You may purchase a policy directly from an insurance company such as Progressive, Allstate, State Farm, Geico, etc., or through an agency, which represents several companies. You will need a Florida driver's license to get the insurance. Call at least two different companies before choosing a policy to compare prices.
Automobile Registration
Lastly, your car must be registered with the State of Florida. Registration certifies your ownership of the car. If you are stopped by the Police, they will ask for driver's license, proof of insurance and registration. Most car dealers will help you with registration. If you are buying a car from a private person, you must do it yourself. You must bring your driver's license, proof of car insurance and the Certificate of Title to the Miami Dade County Tag Agency.
Rental Cars
If you are over 25 years of age and hold a valid driver's license you may lease a car while studying at the University.